Automotive
Who we serve
Automotive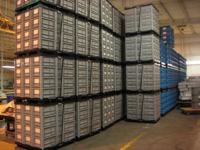 Packaging is a critical component for the automotive industry. With a "Strategic Alliance" with major manufacturing converters of plastic corrugated and foam Paramount Packaging can offer complete concept design, prototyping, and speedy, prompt delivery of product. We have a unique relationship with other manufacturers that include custom welded racks, sewn fabric dunnage bags/pouches, heavy gauge thermoforming as well as other returnable packaging.
Full CAD design capabilities with Catia software. Fast response time with up-to-the minute order status reporting. We know that automotive manufacturers are under the gun to cut costs and we are known, proven and willing to save you time and money from the design concept to product shipment. We can handle all your returnable and expendable packaging needs.
We are located right in the heart of the "new" automotive belt and we can be there to meet with you face-to-face when you need us. Give us a call --- you have nothing to lose and everything to gain!
Who We Serve